Príprava a objednávanie veľkonočných pohľadníc cez online-editor
Online editor restrictions
Online-editor podporuje nasledujúce formáty fotografií: JPG, JPEG a PNG

Pre jeden balík potrebujete 1 až 8 fotografií.

Jedná objednávka môže obsahovať pohľadnice v tom istom formáte, čiže buď 8 kusov na výšku, buď 8 kusov na šírku. Kombinovať formáty sa nedá.

The size of one photo cannot exceed 20 MB or 30 megapixels (6000 × 5000)

The color tones that the user sees on the monitor screen (RGB color space) may differ from those printed on the monitor (CMYK color space).

Why is this happening - find out at at this link

 

The time of saving the ordered project is 400 days, of the unordered project - 120 days.

After this time, it will be deleted automatically.

The print house reserves the right to remove the product earlier due to lack of server space.
Pred začiatkom prípravy pohľadníc doporučujeme sa prihlásiť alebo zaregistrovať. Ak pripravujete niekoľko sad pohľadníc, rozdeľte všetky vaše fotografie takým spôsobom, aby v jednom priečinku na počítači boli fotografie iba pre jednu sadu.

In the part "Veľkonočná pohľadnica" click "Create"
Vyberte jeden z formátov (na výšku alebo na šírku) a kliknite "Create"
Upload photo files by dragging them to the center or pressing the button "Select files"
 Wait for all photos to be uploaded to the server and press "Add photos to photoset"
Wait for all your photos to be uploaded to the photo set. At the top you will see the information that the photos were successfully uploaded and at the bottom you will see thumbnails of all the photos

Manuálne presunte fotografií do fotokontajnerov.
We recommend that you save the product. If you continue to edit photos, click the highlighted button to turn on autosave. This means that your project will be saved periodically.

As default, 8 different designs of the selected postcard format are offered. You can leave everything unchanged or use only the patterns you like
Vzory sa líšia len rámčekmi. Na zmenu rámčeka prejdite v záložke Artifacts vyberte Rámčeky a ten, aký chcete použiť, pretiahnite myšou na fotografiu.POZOR: pre pohľadnice na výšku používajte rámčeky na výšku, pre pohľadnice na šírku používajte rámčeky na šírku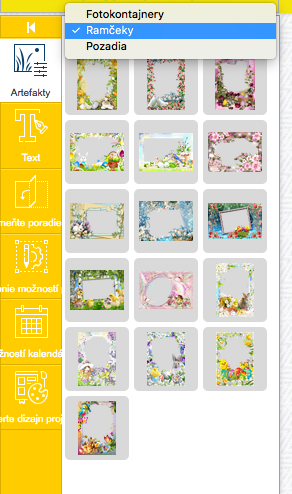 Druhý spôsob zmeny vzora. Prejdite v záložke Zmena poradia kliknite ten vzor, aký chcete použiť, a vyberte, či bude použitý pre aktuálnu stránku buď pre všetky.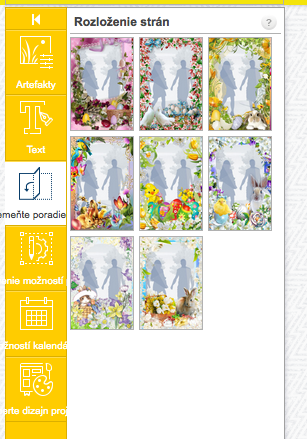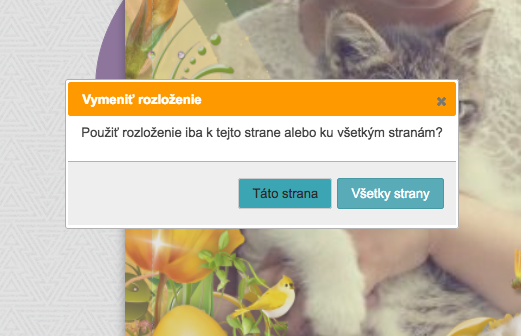 Keď sa fotografia načíta do fotokontajnera, môže sa stať takto, že alebo bude zle otočená, alebo rámček prekryje dôležitú časť.
V tomto prípade pre otočenie fotografie kliknite na fotokontajner a v okne, ktoré sa otvorí v dolnej časti, kliknite na piktogram otáčania. Posunúť fotografiu môžete stlačením myši na ikonku dlane v strede fotografie.
Ak aj tak rámček prekrýva fotku, radšej ju vymeňte.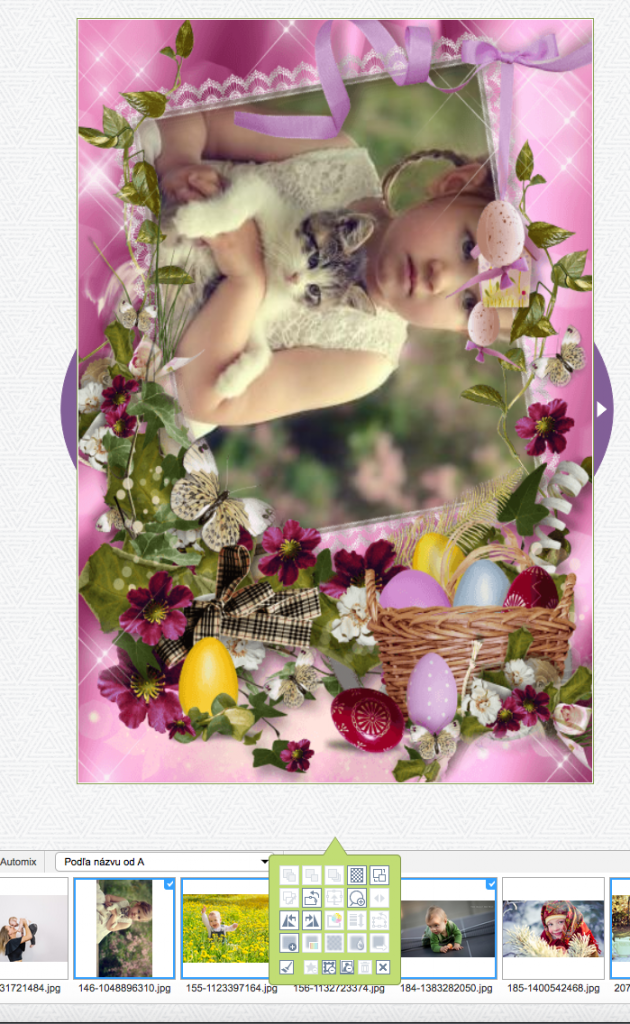 12. Môžete nastaviť veľkosť fotografie posunutím regulátora vpravo alebo vľavo.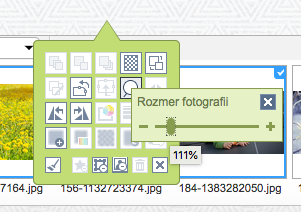 13. Stlačením na označené tlačidlo môžete fotografiu upraviť podľa Vašich predstáv – regulovať jas, kontrast, sýtosť, použiť filtre alebo orezať časť fotografie.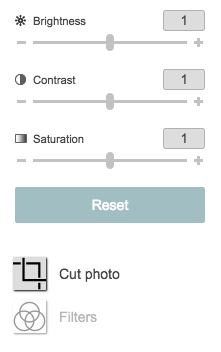 14. Stlačte označené tlačidlo a control each photo in the online editor using a preview. Photos will be printed exactly as you see them in the preview.

16. Opačná strana pohľadnice sa neupravuje a vyzerá takto